'Live Where You Work' at The Cooper in Downtown Wilmington, DE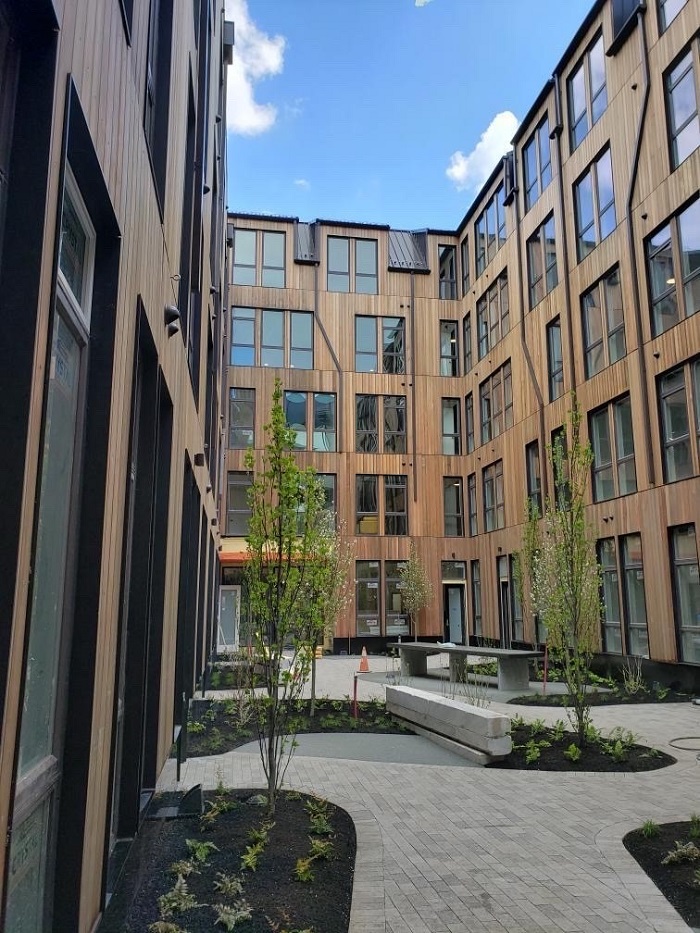 The Cooper — offering brand-new studio, one-, and two-bedroom apartments with open floor plans and sleek finishes — is now open for leasing. Among other amenities, the building features a rooftop deck overlooking Lower Market and a stunning courtyard reminiscent of Scandinavian architecture. It has the distinction of being the only apartment community in downtown Wilmington with a designated dog-run. This transformative project will bring vibrancy and occupancy to the lower end of Market Street.
"The majority of development in recent years has been concentrated in the upper half of Market Street," said Rob Buccini, Co-founder and Co-President of The Buccini/Pollin Group. "The Cooper will bring 92 units — roughly 140 people — to the 200 block, which impacts the broader strategy to build critical mass Downtown."
The Cooper's location on Lower Market Street puts it within walking distance to the train station, Riverfront, and downtown, making it ideal for those who commute as well as for people who want to live where they work.
"As the City's fastest growing neighborhood, we understand that you need a good mix of residents, workers, and visitors to create a thriving neighborhood," said Mr. Buccini. "We whole-heartedly believe that Downtown Wilmington is a great place to live, work, and play."
"We see the great bones that Wilmington has," said Mr. Buccini. "We were born here. We live here. We have great pride in our city, and we know many others do too. We recognize what it can be, while understanding that cities and communities must evolve. We try to identify those trends in our development projects. Our aspiration for Wilmington is to be a place where companies choose to do business and people want to live, and we are committed every day to seeing that happen."
The Cooper pays tribute to the former Cooper Furniture Store that previously occupied the site at 212 N Market Street in the 1950s and was known for its iconic sign on King Street. The distinctive architecture complements the streetscape on Lower Market.
Additionally, what is now The Cooper encompasses more than the former Cooper Furniture Store. Several other adjoining properties that had been vacant and dilapidated for at least a decade were combined to create the development. This project continues BPG's strategic mission in Wilmington to take abandoned and underutilized buildings and transform them for modern use according to Mr. Buccini.
"The design honors the rich history of the location by refurbishing the original cast-iron façade built in 1874 by Royer Brothers of Philadelphia, who are also known for the iconic façade work of The Grand Opera House just up the street.," said Mr. Buccini.
"The City of Wilmington were stewards of The Cooper building for over a decade and took great strides to preserve it for future development," said Mr. Buccini. "When we took on the project, we wanted to build upon their efforts by incorporating the historic façade into the architecture and investing in its restoration."
"The City of Wilmington Office of Economic Development has been a tremendous partner to BPG since our first project in Wilmington in 1999," said Mr. Buccini. "The office recognizes both the need for growth, redevelopment, and new construction and its impact on the City's economy and the community's vitality."
The Cooper's fiscal impacts to the City will include new ongoing property tax revenues, wage taxes from future residents new to the City, new water and gas franchise fees, and one-time benefits from the construction spend in the local economy according to Sean Park, Economic Development Project Manager, City of Wilmington Office of Economic Development.
"We are continually looking for opportunities for new developments in Wilmington," said Mr. Buccini. "In addition to residential projects, multiple restaurant and entertainment options are on the horizon, including Wilma's, a duckpin bowling alley with a strong food and beverage concept."
The Buccini/Pollin Group
During the pandemic, BPG also opened two other new residential communities: 101 dupont place, the first luxury living experience within the iconic Dupont Building, and 713 MKT, 13 historically renovated units on the 700 block of Market Street. Additional information about property management can be found here, and more information about construction management can be found here.
City of Wilmington Office of Economic Development (OED)
The OED is committed to ensuring a diversified local economy for the City by promoting and developing all varieties of industry and by initiating programs to increase job opportunities for residents of the City of Wilmington. Contact them at (302) 576-2120 or sjpark@wilmingtonde.gov. Follow them on Facebook and LinkedIn.