Wilmington's New Riverfront East: A Plan for Transformation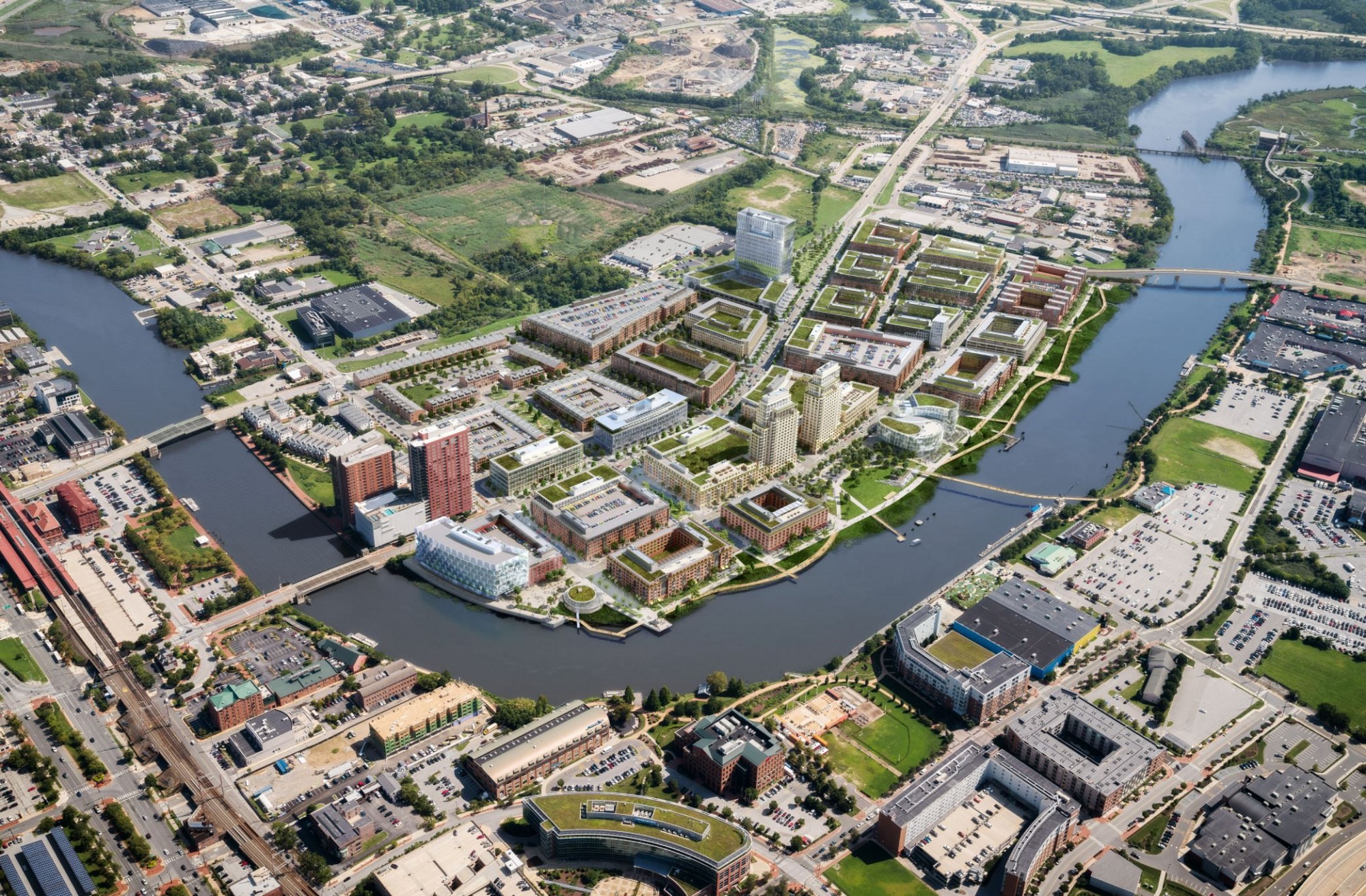 Since the mid-1990s, the brownfields of the western bank of the Christina River in Wilmington, Delaware have been transformed into a destination community with luxury apartments, trendy restaurants, a minor league baseball park, and a movie theater. Now it is time for the eastern bank to get the same makeover.
Riverfront Development Corporation of Delaware (RDC) publicly unveiled comprehensive plans for Riverfront East, an 86.3-acre development of mixed-use opportunity, representing the next major land and economic development initiative along the Christina River. Abandoned properties, crumbling buildings, and junkyards will make way for improvements that will transform the area into a cultural cornerstone of the City positioned to stimulate economic growth for generations to come.
"Riverfront East represents the next chapter in revitalization along the entire Riverfront Wilmington," said Megan McGlinchey, Executive Director, Riverfront Development Corporation of Delaware, "breathing life back into spaces that have sat idle for far too long and developing their full potential as resources that elevate quality of life and opportunity for the region."
Much like RDC's work along the west side of the river, the $100 million Riverfront East project will create a community offering diverse resources and services to empower residents and visitors alike to "live, work and play" to the fullest.
"As the Mayor likes to say, 'if cities don't grow, they die,'" said McGlinchey. "This project represents a tremendous opportunity for the City of Wilmington to grow. It will attract new residents and employers, provide new job opportunities for existing City residents, and will provide more public access to the river and outdoor amenities."
The comprehensive plan calls for 1.9 million square feet for office space, 357,000 square feet for retail, 4.7 million square feet for 4,291 residential units, 3,500 feet of river frontage, and 13.3 acres of open space.
Riverfront East will have an immediate economic impact starting with the construction. "In Phase I, we project 179 construction jobs," said McGlinchey. "We anticipate that Phase 2 and Phase 3 would each create an equal number of construction jobs. Additional job creation will depend on what is developed on the properties in the future."
RDC will bring the land up to environmental standards for business and residential development. The $30 million phase one of Riverfront East will begin summer 2021 with expected completion by the end of 2023. This phase includes construction of needed infrastructure like stormwater management, roadways, and parking areas. A Riverwalk that mirrors the one on the west side and a central green are also part of early construction.
"The Mayor and Governor have been active supporters of this project since its inception," said McGlinchey. "And the Governor has committed significant resources towards the design and construction of the public infrastructure improvements, which will in turn lead to substantial private investment in the project."
As shared in a City of Wilmington press release, the Delaware Department of Transportation has been fully involved in the Riverfront East planning. To date, DelDOT has made a $20 million investment for new roadway construction through the area, as well as traffic-calming initiatives designed to make travel as safe as possible for drivers, pedestrians, and bicyclists.
McGlinchey summed it up nicely in a WITN Channel 22 article: "From the moment we put the wheels in motion in 2016, every element in the planning and development of Riverfront East has focused on ensuring its opportunities and experiences are valuable and accessible to all. We're excited to move full speed ahead on this mission — one engineered to empower personal and economic growth, fulfillment, and achievement for present communities, while building the strong, sustainable foundations of continued progress for future generations."
City of Wilmington Office of Economic Development (OED)
The OED is committed to ensuring a diversified local economy for the City by promoting and developing all varieties of industry and by initiating programs to increase job opportunities for residents of the City of Wilmington. Contact them at (302) 576-2120 or sjpark@wilmingtonde.gov. Follow them on Facebook and LinkedIn.