2022 PGA BMW Championship Makes History for Wilmington, Delaware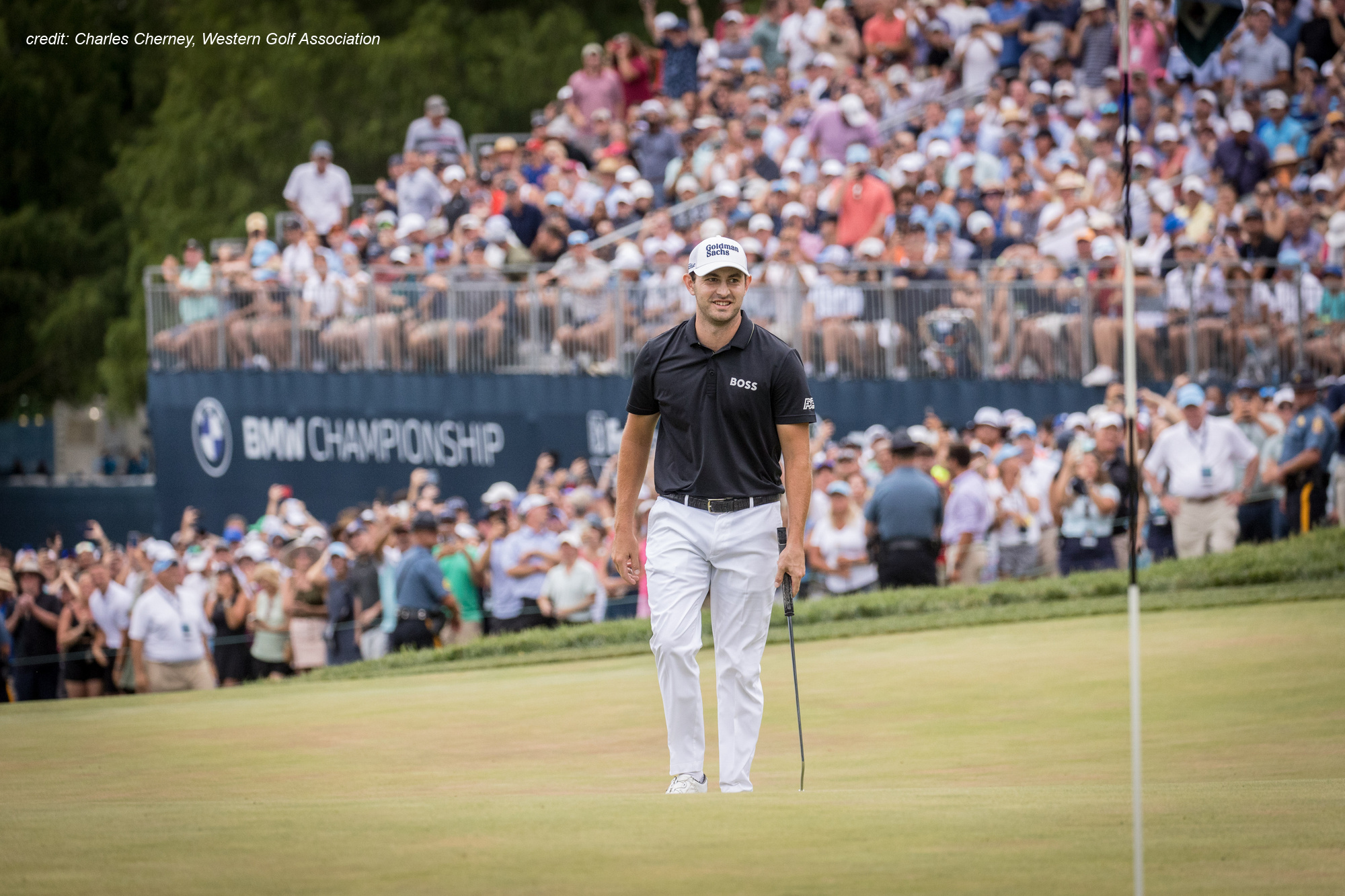 Wilmington has long been known for its history, art, culture, and quality of life. Tourists love strolling through its clean, vibrant downtown, sampling its diverse culinary offerings, taking advantage of its tax-free shopping, and exploring its world-renowned estates and gardens. But this past August, a new attraction came to town.
For the first time ever, thousands of visitors were welcomed to the community for a major golf tournament when the Wilmington Country Club hosted the PGA BMW Championship. This premier tournament ran from August 16-21, with several days of practice beforehand.
"This is like our Super Bowl. I don't think that we've ever had anything quite like this, at least in my lifetime, in Delaware," explains Greater Wilmington Convention & Visitors Bureau Executive Director Jennifer Boes.
The tournament had been in the works since November of 2020, when the Western Golf Association publicly announced its pick. This choice was no surprise since Wilmington Country Club's course plays over 7,500 yards from the championship tees, and has been recognized by Golf Digest as one of the United States' best golf courses. For over 60 years, the course has welcomed some of the globe's best as guests, including President Joe Biden.
After celebrating the honor of being chosen, the Wilmington Country Club planning committee set to work on renovations to ensure every inch of turf was ready for high stakes PGA Tour play.
That preparation was essential since over 120,000 people came to Wilmington to watch PGA champions compete for a $15 million purse, an amount that was up more than 50 percent over the previous year. The winner's share totaled $2.7 million. Another record was broken when winner, Patrick Cantlay, was the first repeat tournament champion.
Beyond rewarding its champions, all proceeds from this event benefit the Evans Scholars Foundation, which provides full college scholarships to hardworking, young caddies with financial need and strong academic records. For the upcoming school year, a record 1,100 Evans Scholars will attend 22 leading universities nationwide, adding to the significance of the tournament tradition.
Because the event was televised, thousands of people had the opportunity to see the beauty of Wilmington's region for the first time. "The visibility and exposure Greater Wilmington got from the tournament was priceless," adds Boes. "We hope it compels some of those who saw us on TV to come and experience Greater Wilmington as a vacation destination."
Wilmington proved ideal for hosting this event. The city is nestled in a bucolic setting conveniently positioned between New York, Philadelphia, and Baltimore/Washington. Wilmington, easily accessed by car, rail, and the Philadelphia International Airport, offers a variety of hotel options and a bevy of first-class dining and entertainment choices.
"In terms of lodging options, we have some really outstanding properties within an easy drive of the course, whether guests prefer a full-service hotel or something smaller and more intimate," said Boes. "The iconic HOTEL DU PONT was home base for many of the golfers and tournament officials. Its proximity to the course provided quick access to the tournament and it also brought the bulk of the tournament VIPs downtown, giving them easy opportunity to explore our city."
"Finally, our dining scene is on fire, and everyone needs to eat, right?" said Boes. "Especially after a long day of golf, whether you played or were a spectator. I am sure those who visited us were surprised and delighted at the range and high quality of the dining options we offer, particularly for a geographic area of our size."
Naturally, the economic boost was felt and appreciated by all, especially in this post-pandemic economy. Many Wilmington hotels had the event week booked out months in advance, and local businesses from restaurants to retail to ride shares profited from the enormous surge of tourist traffic. Meanwhile, many local residents rented out their homes.
"I was downtown the Thursday, Friday, and Saturday evenings of the tournament, and our restaurants were definitely seeing the impact of the BMW Championship," said Boes. "There was lots of excitement downtown and at the Wilmington Riverfront. It was great to see."
Boes credited much of this success to the fact that the Office of Economic Development (OED), the Chamber of Commerce, and the Convention and Visitors Bureau combined forces to leverage the opportunity, and did a great job promoting Greater Wilmington. She hopes they have an opportunity to build on this amazing experience in the years to come.
For the tournament, the City, County, and Chamber of Commerce partnered with local businesses to create a key initiative, a special mobile discount pass for BMW Championship ticket holders. More than 700 of those passes were downloaded and used that week. In addition, "Golf. Relax. Repeat." ads promoting the region were delivered to the mobile devices of tournament guests and received more than 130,000 impressions. The BMW landing page was the most visited page on VisitWilmingtonDE.com in August.
"We also saw more than 100 redemptions of our Brandywine Valley Treasure Trail Passport, a one-price ticket for individuals and families to 12 of our most popular attractions," said Boes. "That is very high for August based on data from past years."
"I have heard there is a chance that the tournament may come back to our area in future years, and there is also the possibility we could attract another sports tournament of this caliber," said Boes. "I think this was a great learning experience for all of us here in the region charged with tourism promotion and economic development — the City, the County, the New Castle County Chamber, the Delaware Tourism Office, and more. Everyone combined forces to leverage this opportunity and did a great job promoting Greater Wilmington. I hope we have an opportunity to build on this amazing experience in the years to come."
Explore all that Wilmington and the Brandywine Valley have to offer and learn about upcoming events by hopping over to Visit Wilmington's Facebook, Twitter, and Instagram.
Schedule your own round of golf at one of Wilmington's many public and private golf courses.
City of Wilmington Office of Economic Development (OED)
The OED is committed to ensuring a diversified local economy for the City by promoting and developing all varieties of industry and by initiating programs to increase job opportunities for residents of the City of Wilmington. Contact them at (302) 576-2120 or sjpark@wilmingtonde.gov. Follow them on Facebook and LinkedIn.