Chancery Market: A Place for, Gathering, Food and Entrepreneurial Opportunity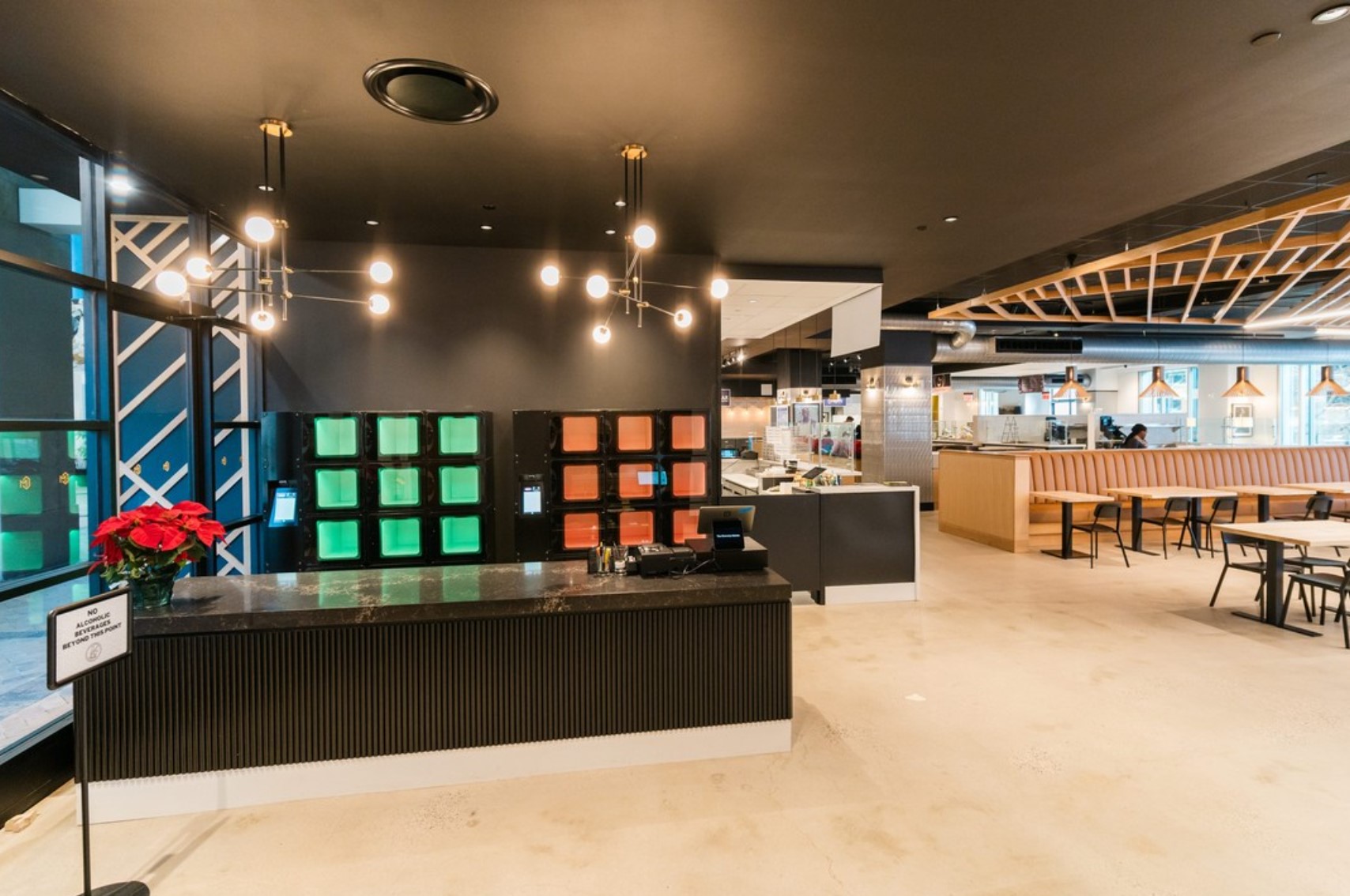 Wilmington, Delaware, was tapped as one of "The 23 Best Places to Go in the U.S. in 2023" by Condé Nast Traveler because of its transformation into a bona fide food destination. New-to-the-scene food hall and bar — The Chancery Market — curated by award-winning NYC-based chef, cookbook author, and TV personality Akhtar Nawab, was named as one of the reasons why.
Billed as a "dream destination for foodies and entrepreneurs alike," The Chancery Market brings seven unique food concepts to the Wilmington area: David Chang's FUKU, Espresso, Katiroll Wala, Rooted AF, Toscana Pizza and Panini, Market Street Burger and Dog, and Oath 84. Just a four-minute walk from the famed Hotel DuPont, The Chancery Market serves up a trendy, global food scene at 1313 N Market Street, on the northernmost edge of the Central Business District. The Chancery Market is convenient to Staybridge Suites and Residence Inn hotels, the University of Delaware's city campus at the Community Education Building, Lawyer's Row, numerous office complexes, and thousands of neighborhood residents.
"When you pick a restaurant to go out to, it is generally a singular experience," said Nawab, "one type of cuisine and a menu therin. A food hall provides a more global experience, representing a true American melting pot of flavors. At The Chancery Market, you get to share the experience of a meal together while selecting the unique flavors you want to enjoy."
The Chancery Market, a $5 million project, opened in December 2022 and Nawab said a steady weekday clientele has developed. Located on the ground floor of a 500,000-square-foot office building, it has proven to be a great place to spend lunchtime or happy hour. The mixed concrete, metal, and wood interior offers nooks and spaces with couches, fireplaces, and numerous tables designed by the Wilmington-based Challenge Program, which teaches construction trades to at-risk youth. The Chancery Market even has heated and chilled lockers to keep food at the appropriate temperature for online pickup orders.
"It was nice to open around the holidays; people were out and about, and we have carried that over into the new year. The community feels engaged. We'll be using January and February to fine-tune before opening our patio in the spring."
The patio will reimagine the 10,000-square-foot outdoor plaza by building new green spaces in the previously stonework courtyard. The outdoor space will feature food and drink service and games. Nawab said it will be a comfortable and exciting "inside meets outside" space. Patrons outside will be able to order at the expansive bar through a large retractable-pane window, and patrons inside will take in the views.
Nawab said that now that the last vendor stall is filled, the focus will swing toward developing a community footprint for evenings and weekends. Programming includes trivia nights, yoga, music bingo, DJs, gallery art shows, and creating bar menu items and on-trend drinks for the lively night crowd. "Importantly, we will collaborate and listen."
Beyond Food, The Chancery Market Serves Entrepreneurial Opportunity
Nawab is not only chef and co-CEO of The Chancery Market, he is the founding partner of Hospitality HQ (HHQ), the fastest-growing food hall management company in the country. The Chancery Food Market joins HHQ's roster of communal dining projects in Brooklyn, New York (Alta Calidad); New Orleans, Louisiana (Otra Vez); Chicago, Illinois (Dr. Murphy's Food Hall); Riverdale Park, Maryland (Le Fantome); Selma, NC (Old North State Food Hall); among others.
"One pillar of our company is to create and provide opportunity," said Nawab. "Many different people are coming together to tell a story and share a vision using food as the vehicle."
"Interesting thing, when it comes to food, some vendors have more business acumen than others," said Nawab. "They excel at cooking and hospitality, but the business of running a restaurant may not be their area. We take the 'running the business' off their plates so they can put their efforts into building their business. Our food hall is a relatively inexpensive way to get up and running — for $35,000 or less — compared to the $250,000 or more it takes when starting from brick and mortar."
"When initial leases are up, they may choose to stay, or they can leave with our full support," said Nawab. "We had one vendor open in our first food hall in Omaha, then open a location in our Chicago hall. They went on to open their own place. It was very satisfying."
"For those who don't know us, come by and check out our food vendors," said Nawab. "We have fantastic Indian food, a well-known pizza vendor, hot Korean fried chicken — FUKU — and a really robust bar. We are in a big beautiful historic building on the cusp of the residential area, working to create a meaningful community center for locals and workers alike — filling a need in the Business District. We would love everyone to stop by."
Follow The Chancery Market on Instagram to keep up with what's new. For a 20-second tour, check out their Instagram Reel.
City of Wilmington Office of Economic Development (OED)
The OED is committed to ensuring a diversified local economy for the City by promoting and developing all varieties of industry and by initiating programs to increase job opportunities for residents of Wilmington. Let us help you get your entrepreneurial dream off the ground. Contact us at (302) 576-2120 or sjpark@wilmingtonde.gov. Follow them on Facebook and LinkedIn.